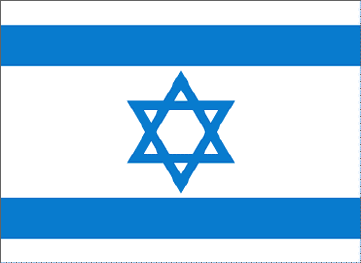 The flag of the only democratic nation in the Middle East.
A UN delegation is even now trying to broker a cease-fire in the Middle East. Israel believes that it's too soon to talk about that. I agree.
This isn't a fight between two sovereign nations – say, for example, Israel and Lebanon. This is between a sovereign nation and a murdering, vicious extranational society bent on the destruction of its enemy. Hezbollah is being credited with having "freed" Lebanon from the Israeli "invader". Au contraire, ma cherie. Israel withdrew unilaterally. Hizbollah has been lobbing Qassam rockets ever since.
Hizbollah must be disarmed and dismembered. Some argue that doing so will cause three more to spring, hydra-like, from its corpse. Maybe, but it'll take some time for them to gather some momentum and ordnance, and their backers in Syria and Iran will have to come out from under their respective rocks and show the world that they're behind it.
For a declaration of Israel's feelings on this subject, be sure to read this article. A brief excerpt (from Prime Minister Ehud Olmert's speech to the Knesset):
Israel did not seek these confrontations. On the contrary. We have done a lot to prevent them. We returned to the borders of the State of Israel, recognized by the entire international community. There were those who misconstrued our desire for peace – for us and our neighbors – as a sign of frailty. Our enemies misinterpreted our willingness to exercise restraint as a sign of weakness.

They were wrong! Madam Speaker, Members of Knesset, The State of Israel has no territorial conflict, neither on our southern border nor on our northern one.

In these two areas, we are sitting on the recognized international border – both vis-à-vis the Palestinian Authority in the Gaza Strip, and in Lebanon. We have no intention of interfering in their internal affairs. On the contrary, stability and tranquility in Lebanon, free of the rule of foreign powers, and in the Palestinian Authority, are in Israel's interest. We yearn for the day when peace will prevail between us, for the mutual benefit of our peoples from both sides of our common border.
President Bush is right. Get Syria to stop Hizbollah from doing this s**t and it'll be over. But since that won't happen, Israel will have to do the work itself.
And meanwhile, Palestinians are dancing in the streets, like they did on 9/11. They've come down on the wrong side of this. Again.