January 28, 2008
January 16, 2008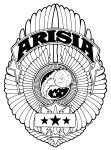 I will be at Arisia this weekend. Laura Anne Gilman is the Writer Guest of Honor; as some of you know, I will be Arisia's guest next year.
I have the following panel and activity schedule:
Friday 19 January
8 PM: Real and Fake Religion in SF/Fantasy (with Debra Doyle, Mary Catelli, Aline Boucher Kaplan and Lis Carey)
Saturday 20 January
10 AM – 2 PM: Masonic CHIP Event I'll be helping out with the Child Identification Program event being held this year at Arisia. Bring your young ones by. This is a wonderful program that provides a useful tool to law enforcement if a child ever goes missing. The Masonic Fraternity has provided this free service to more than 200,000 children since it was begun more than ten years ago.
4 PM: Steampunk vs. Cyberpunk (with James T. Henderson Jr., Mario di Giacomo, John Kramer and Catt Kingsgrave)
7 PM: Retro-Futurism (with Stephen R. Wilk, Mario di Giacomo and Debra Doyle)
Saturday 20 January
4 PM: Reading I'll be reading from my upcoming novel, A Song In Stone. Please come and listen.
Monday 21 January
10 AM: (FastTrack) Card games with the young folks.
11 AM: (FastTrack) Magic: the Gathering with the young folks.
12 noon: Kingdom of Loathing (with Cynthia A. Shettle and Julia Tenney)
Hope to see you there.