October 28, 2007
One of our local conventions. It lasts four days this year.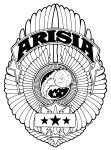 Official website

Big Papi delivers.
The Old Towne Teame is up 3 games to none now, thanks to a 10-5 win Saturday night against the Rockies. The Red Sox took a 6-0 lead, sending Josh Fogg away; Daisuke Matsuzaka pitched very well, walking two guys to start the sixth inning. Javier Lopez came in and did nothing useful, but Mike Timlin pitched out of it, leaving the game at 6-2.
Timlin got in trouble in the 7th, so Francona went to Hideki Okajima, who hadn't given up anything at all – and he threw the wrong pitch to Matt Holliday, who made it a 6-5 game. Coors Field went wild.
And my good friend R. developed a bad case of S.F.P.™ – Sox Fan Panic. We'd been chatting on IM all through the game, and this was the exchange during that scary 7th inning:
Me: that was a bad, bad pitch.
R.: They look remarkably like my father's Red Sox.
Me: no, it's 6-5 not 7-6. Hold on.
R: We need Bob Stanley to complete this picture.
R: There are still no outs.
Me: argh. (Todd Helton had just singled to right, putting the tying run on base.)
…
R.: He looks lost out there.
Me: ok. 1 out. (Okajima struck out Garrett Atkins.)
R: Brad!
Me: ok. 2 out. (Okajima struck out Brad Hawpe.)
R: Thank u Yorvit. (Yorvit Torrealba hit a weak grounder back to Okajima, ending the inning with the Red Sox still up 6-5.)
Me: not your father's Red Sox. Not yet.
And they weren't: three runs in the 8th and a run in the 9th were enough to give Papelbon a cushion to work with. Hawpe delivered a two-out triple but never scored, and Mr. Death Stare closed out another game.
It was eerily like the ALCS game where Kenny Lofton never quite scored the tying run. But it never happened, just as it never happened here. This isn't the Red Sox of 1975, 1986 or even 2003. This is a different sort of team, and SFP™ is treatable.
I wrote the following to my good friend during the ninth inning:
Me: take a deep breath . . . and repeat after me.
Me: These are not your father's Red Sox. You were hyperventilating during the 7th inning. You were in the traditional Sox Fan Panic (SFP™). But these are not, not, not your father's Red Sox.
Me: they did not give up the lead. They scored some pad runs. They are about to win Game 3.
And so they did, 10-5.

Mr. Death Stare strikes again.
Note: The original image went away – substituted this instead.
The latest tactic by Yankee fans and fellow-travelers across the country, by the way, is to suggest that Red Sox fans have become what they loathe, as if a few years of remarkable success somehow wipes out the years and years of insufferable arrogance and sense of entitlement that Yankee fans have stuffed down New England's throat. Sorry, but no thanks, not buying that line. There's still far too much SFP™ in the air, even up 2-0, even up 3-0. Of course, some people characterize it differently. Meanwhile, Sox fans are still worrying that the Rockies could somehow, impossibly, come all the way back to win this Series.
Not going to happen. This could all be over by Sunday midnight, or Monday midnight if it winds up falling to Josh Beckett to close out the NL champs in Game 5. This one was their chance to get back in; the seventh inning was the moment at which Your Father's Red Sox would have coughed it up.
They didn't. They won't. The valiant, young, talented Colorado Rockies will not be winning this World Series. And maybe this will put SFP™ out of business once and for all.